NZD/USD Intraday technical levels and trading recommendations for October 27, 2017
|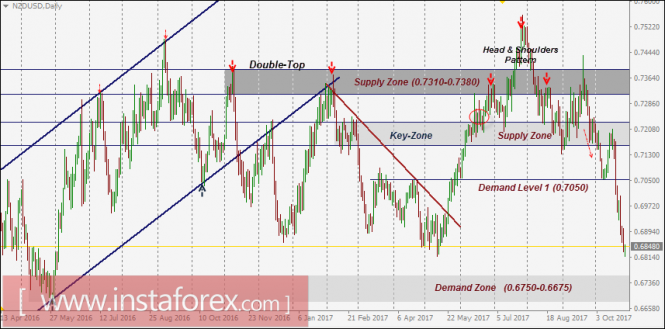 Daily Outlook
A recent bullish breakout above the downtrend line took place on May 22. Since then, the market has been bullish as depicted on the chart.
This resulted in a quick bullish advance towards next price zones around 0.7150-0.7230 (Key-Zone) and 0.7310-0.7380 which was temporarily breached to the upside.
The recent bearish pullback was executed towards the price zone of 0.7310-0.7380 (newly-established demand-zone) which failed to offer enough bullish support for the NZD/USD pair.
Re-consolidation below the price level of 0.7300 enhanced the bearish side of the market. This brought the NZD/USD pair again towards 0.7230-0.7150 (Key-Zone) which failed to pause the ongoing bearish momentum.
An atypical Head and Shoulders pattern was expressed on the depicted chart indicating a high probability of bearish reversal.
Bearish persistence below the neckline 0.7150 confirms the reversal pattern. Next bearish targets are located around 0.7050, 0.6925 and eventually 0.6800.
As expected, the price level of 0.7050 offered temporary bullish support before bearish breakdown could take place. That's why the further bearish decline should be expected towards 0.6925 and eventually 0.6800 (Reversal pattern bearish targets).
The material has been provided by InstaForex Company – www.instaforex.com
The post NZD/USD Intraday technical levels and trading recommendations for October 27, 2017 appeared first on fastforexprofit.com, الفوركس بالنسبة لك.