USD/CAD To Rise Toward 1.4200 – Citi
|
The Canadian dollar remains under pressure with falling oil prices.
We have not reached the bottom of the barrel according to the team at Citi:
Here is their view, courtesy of eFXnews:
Citi analysts expect that USD/CAD may rise toward 1.4200 for the coming 0-3 months.
"Since petroleum products are Canada's major export, the persistent oil weakness may dampen Canada's export income. This will likely be CAD-negative.
Besides, Citi's Canada Economic Surprise Index plunged to -71.5 recently, the worst among major currencies, reflecting that economic data in Canada continues to trail market expectations. For instance, Canada's Core CPI growth (MoM) moderated from +0.3% to -0.3% in Nov. GDP growth (YoY) fell from +0.1% to -0.2% in Oct," Citi argues.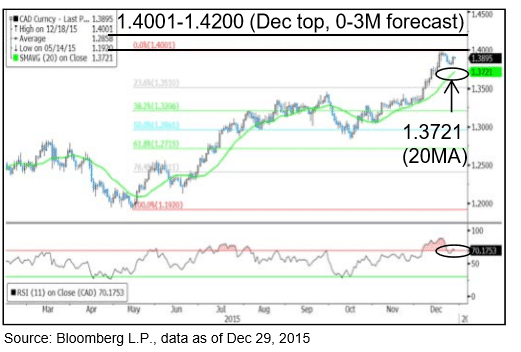 On the technical front, Citi notes that USD/CAD continues to be supported by 20MA
"Technical indicators suggest USD/CAD may rise toward 1.4001-1.4200 upon consolidation, with support at 1.3721," Citi projects.
For lots more FX trades from major banks, sign up to eFXplus
By signing up to eFXplus via the link above, you are directly supporting Forex Crunch.