Vintage, Classic & Limited Edition Ferrari's Are Preferred Investments
|
Vintage, Classic & Limited Edition Ferrari's Are Preferred Investments
Buying an Italian Supercar from the from the 50's, 60's, 70's and 80s have served up investment gains that are hard to beat.
Vintage Ferraris have risen nearly 700% in value since Y 2006, according to data that pools prices of 13 of the most sought-after models from the 1950's throught the  1970's.
Even some  newer cars, like the Testarossa from the 80's, have nearly 2X'd over the past 12 months alone.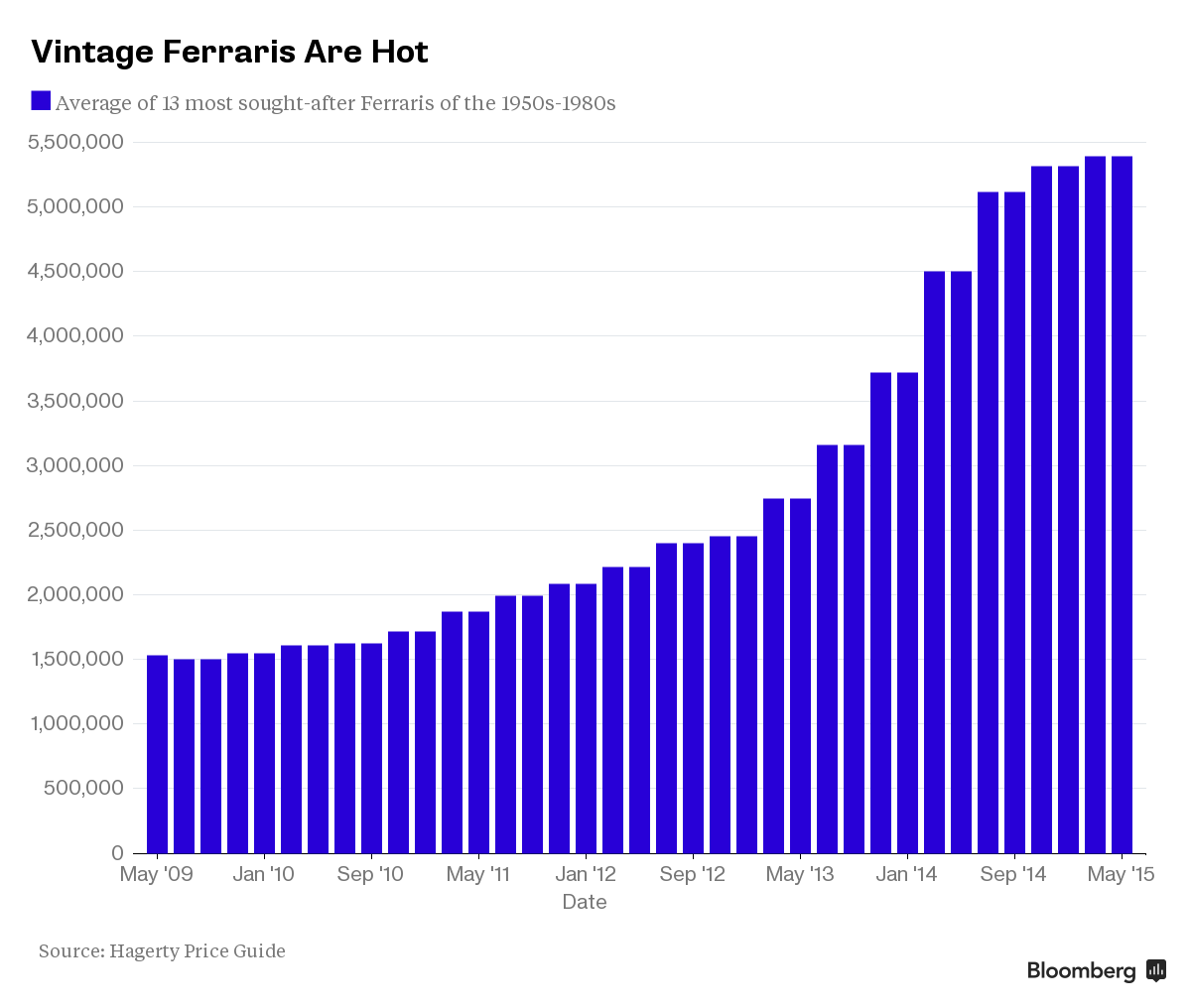 Prices may not continue to go up like this forever, but they are never going to crash because these are tangible assets, few in number and sought after in a world market.
That performance may be tough for Ferrari's stock to match after Fiat Chrysler Automobiles NV  (NYSE:FCAU) lists a 10% stake in a IPO (initial public offering) now scheduled for October of this year, though it may be pushed forward depending on the market sentiment which is currently in turmoil.
Fiat Chrysler, the Italian-American carmaker, sees its Supercar unit worth more than $11-B, because its CEO Sergio Marchionne expects investors to view Ferrari  as a luxury goods producer and pay a handsome premium for a stake.
Companies like Prada SpA trade at more than 20X earnings, 2X the valuation of auto manufacturers.
The European Fashion Index, which includes LVMH Moet Hennessy Louis Vuitton SE and Hermes International SCA, has by comparison slightly more than 2X'd since Y 2006, and Prada has fallen 16% this year to below its Y 2011 IPO price.
Ferrari cars are terrific, and a super to own. The fact they go up in value is the lucky extra.
Fiat Chrysler is hoping to reap about $5-B from spinning off its Ferrari division to help fund a $53-B investment program that focuses on expanding the Jeep, Alfa Romeo and Maserati brands globally. After the IPO, the company plans to distribute an 80 stake in Ferrari to its own investors.
Stay tuned…
Paul Ebeling
HeffX-LTN
The post Vintage, Classic & Limited Edition Ferrari's Are Preferred Investments appeared first on Live Trading News.